Up The Mountain
In which our hero gets misty.
The wife and I were fortunate enough to enjoy a trip out to Seattle recently. We had been once before back in 2019 and immediately fell in love with not only the city but those around it and the fantastic wilderness of the entire state.
So, for this year's domestic trip, we decided it was time to return. Armed with a new Pixel 7 Pro, I wanted to shake off my rusty photography "skills." Our trip to Mt. Rainier provided the perfect opportunity.
As we drove up the winding road, we were overwhelmed by the raw majesty of the scenery. Lush green forests of towering trees covered in moss and a floor covered in felled trunks and wildflowers spread as far as the eye could see. Natural waterfalls dotted the landscape and several breathtaking views of valleys made me forget my troubles.
As we crossed the snow line and trekked further up into the clouds, the white mist lingered and held onto the thick canopy. A constant smattering of rain prevailed for the remainder of our trip. It was as if we crossed into another world.
As we neared the peak at Paradise, the snow had risen several feet. We stopped at the visitor's center and watched as people skied down the hills and traversed the ice and snow with their rented snow shoes.
Though we never did get a clear view of the mountain in all of its majesty thanks to the thick cloud cover, we did enjoy the natural beauty of the climb and subsequent descent. If nothing else, it reaffirmed our desire to one day move out here and call this great wilderness "home."
Gallery #1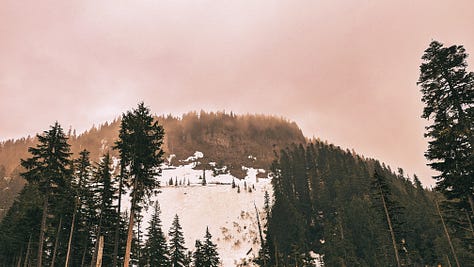 The photos posted here have been touched up with a program I recently found, Luminar Neo. I'm still new at tinkering with it, but I am certainly pleased with the results.
Gallery #2