Zero Lives: 2023/03/29
Shamrock Shake Season
It's been a while. Lot going on and I kind of lost my drive and will a while ago. I've found it once more and here we are. I've had a running version of this post going for a few months now. I kept adding notes alongside bits and bobs. However, I've got a bit of free time and it's been gnawing at me that I haven't sent one of these out in a while.
I'm no longer with Pro Game Guides thanks to the SVB Bank collapse. Layoffs hit the Gamurs Group parent company hard and a lot of good people lost their jobs. I just happened to be one of them. I have prospects, but I think for now, I'm going to use this as an opportunity to center myself and figure out what's going on.
Because guess what!? I've got diabetes! That's right. A life of poor choices has finally caught up with me. I'm on the waiting list for an educator and dietician, but that hasn't stopped my lovely wife from gutting our kitchen and restocking it with healthy options. I'm not sure what I'd do without her. The diet is hard, as not only am I diabetic, but my cholesterol is high. So sugar, fatty things, fried things, anything good has gone out the window.
So a tumultuous job front and a nasty diagnosis paired with some more personal stuff that I won't get into online and it's got me feeling run down. Sometimes, it's best to take a step back and reset. That's exactly what I plan on doing.
What I'm Playing
Atomic Heart - What a complete and utter joke. I had been looking forward to this one for years only for it to be one of the biggest disappointments. Bland gameplay combined with a complete douchebag of a protagonist. I would have been sorely upset if I had paid for it and it wasn't on Game Pass.
The Division 2 - Well, the honeymoon is over. After our group of dads worked through the game, expansion, and ran some of the endgame content, and that was kind of it. It was a blast, start to finish, but the lack of support from Ubisoft has rendered this one all but dead. Still, I'll keep an eye out for any future iterations.
CoD Modern Warfare 2 DMZ - I got dragged into this one by Dice K0. I'm not much for the battle royale titles, but having someone to play with made all the difference. Would I ever play it on my own? Absolutely not. Will I Solid Snake my way onto an island without weapons only to get murdered right away? Totally.
Danganronpa V3 - I didn't really make it too far into this one. It's weird, for sure, but there's definitely something there. I just have to dedicate the time to embracing the weird.
Destiny 2 - I absolutely savaged the Lightfall expansion in my final piece for Pro Game Guides. Since then, I've not touched Destiny 2 all that much. Between burnout and being so utterly disappointed with this expansion, I'm tapped out unless I get a job that has me covering the game.
Phantasy Star Online 2 - I absolutely LOVED PSO2 on Dreamcast, so finally got around to trying the current generation of sci-fi MMO. It's…fine. The UI is a confusing mess, the story is generic as all get out, and I just couldn't be bothered to get too far into it. It's a shame.
Gundam SD Battle Alliance - Tiny Gundam! It plays like virtually every other Gundam title released in the past decade, which isn't great. It's really hard to recommend to anyone that's not a fan of the mecha series, but for those that are into it like I am, it's free on Game Pass and worth an hour or two of your time.
Gran Turismo 7 (VR) - GT7 was one of the first titles I nabbed after getting the PSVR2 and roughly $400 later, I have a full racing rig sans seat. That escalated quickly. GT7 is definitely a title that will sell the console's VR system. It runs great, looks phenomenal, and is so satisfying to play.
Resident Evil Village (VR) - This is the other title that will be selling the PSVR2. It's no secret that Village is my favorite in the RE series and in my top three games overall. Being completely immersed in this world is unlike anything else I've experienced. I am blown away by the entire experience. From the visuals to the combat and manually reloading to feeling like I'm really there, it's fucking amazing.
Resident Evil 4 Remake - Speaking of fucking amazing, the RE4 Remake is definitely up there. It's on par with the quality of the RE2 and RE3 remakes. Playing it felt like I had never played the original and was the first game in a long time that sucked me in totally. Granted, I was playing it for work, but it didn't feel like work at the time. Expect a full review of this one soon.
Guilty Gear: Strive - How have I slept on this one for so long!? It might be my favorite fighter now. It looks so good and is so fluid! Combos are simple, cinematic, and satisfying to pull off. Now I have to decide who I'm going to main.
Last Epoch - I was pulled into this by a friend. Imagine someone decided to rip off everything about Diablo. I'm not saying Last Epoch is bad, but it's certainly not original. That being said, it is extremely satisfying to kill people by blowing up their blood. Did you know that rock monsters have blood?
Senran Kagura: Peach Beach Splash - Take your basic team-based shooter, sprinkle in some PG-13 hentai, and you've got SK: PBS. It isn't awful, but it's far from good. Even at a bargain, don't bother with this one. The novelty wears off before one even finishes the tutorial.
Senran Kagura: Burst Re:Newal - Take everything I just said above and apply it to this. Except, instead of being a team-based shooter, this is an action beat 'em up. The levels are bland and empty with only a few enemies populating the space.
RockSmith - While I've sung the praises of Yousician when it comes to learning an instrument, I was coerced into giving RockSmith a go. While it has a much better library of songs to learn that aren't covers. The trade-off is that the UI isn't as good. But learning a song is significantly easier thanks to the difficulty automatically adjusting with a much smoother transition rather than set difficulties.
Max Gentlemen Sexy Business! - Are you a fan of business tycoons? What about sexy business tycoons? With tongue firmly in cheek, MGSB is an engrossing romp through the industrial age as you work to dominate your business rivals in both business and pleasure.
Ambition: A Minuet in Power - Ambition plays more like a visual novel. As a French woman from the countryside, you've just arrived in Paris to be with your fiance. Upon your arrival, you find him missing, the estate in disrepair, and a conspiracy afoot. Thus it falls upon you to restore the house, find your wayward beau, and outwit the piranhas in society.
Later Daters - You know what happens when you get old and your kids put you in a retirement home? You start fucking everything with a pulse. Later Daters lets horny players engage in erotic elderly adventures while building engaging characters through a visual novel experience.
What I'm Watching
DEATHGASM - Satan. Metal music. Horror. New Zealanders.
Behind the Mask: The Rise of Leslie Vernon - A unique take on the slasher horror genre where a group of documentarians follows an up-and-coming serial killer. It's a refreshing breath of air for horror and one that's easy to recommend, even if someone isn't a fan of the genre. However, those that are fans will appreciate all the winks and nods.
The Last of Us - Holy shit. Television shouldn't be this good. The entire run of the series was top-notch from start to finish. I've never played the game and certainly won't now for fear of spoiling my feelings about the show.
Mobile Suit Gundam: The Witch from Mercury - This just might be the easiest Gundam series to get into. The story is far more relatable and the political intrigue is dialed down. The battles between mobile suits are just as intense and memorable as series like Wing and 00. If you're a fan of Gundam and have been trying to get friends into it, this is the place to start.
Burst Angel - A harem-style anime, this came out in the early 2000s and has not held up well at all. The 3D animation is rough and I don't know that an HD version exists as I was only able to find it in SD. As such, it's not that great on modern screens. The characters, aside from their ridiculous chests, are all flat. Even if you have nostalgia for this one, let it live on in memory instead of giving it another shot.
High School DxD - I was only able to get through one episode of this before throwing in the towel. Perhaps I've aged out of the bulk of anime because the premise, characters, and story are the epitome of stupidity. Horny teens, busty teens, and supernatural powers? No thanks.
Gankutsuou: The Count of Monte Cristo - This was another title that I could only find in SD. I remembered watching it ages ago and fell in love with the art. The Count of Monte Cristo has always been one of my favorite stories and this adaptation is a phenomenal version. It's a visual treat that takes the classic tale and reimagines it in a way that makes it feel fresh and new.
Chaos;HEAd - Ugh. Horny teen that's obsessed with anime girls. Several large-breasted teens that are interested in him for inexplicable reasons? If there wasn't a healthy dose of murder and mystery, I would have dropped it. I'll keep watching for now. At least until the cringe catches up with me.
High School of the Dead - Look, I know what I just said. Teens, big boobs, and the supernatural. Whatever, for some reason HSotD doesn't bother me and I'll rewatch it every few years.
The Mandalorian - Watching sci-fi Pedro Pascal and his first child take on all comers, I have to wonder where this series is going. It's an enjoyable ride, but what is the endgame?
John Wick: Chapter 4 - Literally just got out of the theater and decided to add this in before shooting the post off into the wilds of the internet. It's probably the best in the series. It's long but is a feast for the eyes and ears. While the story isn't the best, it at least wraps up in a satisfactory way. I still stand by my statement that this should have been a one-and-done movie, but the series was better than expected. Except for Chapter 3, which was garbage.
Gunpla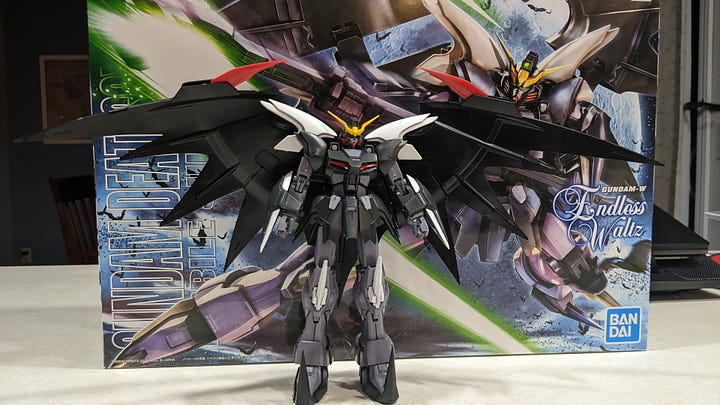 Art