Zero Lives: 2023/05/05
~ Dan Dan Didi Dan Dan ~
Man, I don't even know what I'm doing with my life at this point. Ever since Gamurs did its mass layoff, I've been struggling with work. I've worked with a few outlets since then, but each has had something preventing me from calling it "home." The writing landscape is bleak unless you know how to write grants or want to help people with their resumes. I still want to make a career out of writing, but I'm not sure how right now. It's getting to the point where I might just need to suck it up and enter the regular workforce once again.
Beyond that, I've really dived into my Gunpla hobby. I joined the subreddit for it and it has become a huge source of inspiration and knowledge. I've purchased all the makings for an airbrush station, including an air compressor, and painting booth with filters and a vacuum. Once I'm done travelling I have a figure ready to go for a test paint.
Outside of building and customizing tiny robots, Spring has finally arrived. Though it's been raining non-stop, there have been a few dry days. This has ultimately meant that the grass has been growing with purpose and the dandelions are out in force. I've been trying to find time to sand and stain the deck, but the near-constant rain is making that extremely difficult. Either way, I'm happy for the change in weather as it means I'm not cooped up inside all the time.
My enjoyment of gaming is at an all-time low. I'm still not sure why, but I simply don't enjoy playing them any longer. I hate the feeling of always been on a treadmill with games like Destiny 2 and I don't like how overly long some single-player games have become. Perhaps I'm simply turning into an old man and have outgrown my favorite hobby. Or perhaps my cynicism has reached critical mass.
I still enjoy covering games, but it feels like an outsider looking in. Even my bread and butter, Destiny 2, has me wondering if it's simply time I parted ways with my Guardian after eight years. I don't like the way that Bungie has taken the series and at this point, I'm tired of pretending I'm interested. Lightfall might have been that final nail in the coffin for me.
So, where does that leave this newsletter? Oh, I'm definitely going to keep doing it. I enjoy this little outlet. I love writing and the sense of accomplishment I get when I hit that "publish" button. Hopefully, you enjoy reading it just as much.
What I'm Playing
Redfall - The gaming community at large, both critics and players alike, have panned this one. However, I have been enjoying my time with it. It's not perfect by any stretch of the imagination, but I like the overall design, the haunted autumn atmosphere, and the setup for the story. It desperately needs matchmaking, but overall, I've been having fun. Now that I say that out loud, I'll probably never touch it again. That's just how it works.
Star Wars: Jedi Fallen Order - With the sequel now out, I figured it was finally time to play the first game that I don't remember buying. I'm not all that far into it, but the setup has me intrigued and it looks phenomenal. However, in my brief time with it, I can already tell it's going to lean heavily into climbing sections and segments where Cal is sliding down surfaces and must avoid obstacles.
What I'm Watching
My Hero Academia - For a show that only has slightly better pacing than Dragon Ball Z, I have no idea how I'm already on Season 4. It's not great, but it's not bad. It makes for great background entertainment while I'm building Gunpla. I think its strongest aspect is the characters. The story is nothing to write home about, the animation is above average, and it's full of anime tropes. I don't understand how it became so popular but to each their own.
Super Mario Bros. - We did family movie night with heated reclining seats and overpriced snacks. It was better than I expected, but I went in with rock-bottom expectations. Chris Pratt did much better as Mario than I would have thought but my man Luigi was robbed of screen time. It was interesting to see that they merged the Mushroom Kingdom with the jungles that Donkey Kong calls home. It's full of references for longtime fans and people of all ages are bound to have a good time with it.
Gunpla
I've been going a bit crazy when it comes to Gunpla. I've been buying way too many models and working hard to keep up with them. It doesn't help that I discovered what HobbyTown was and that there was one within driving distance. Each trip has been dangerous for my wallet and prosperous for my collection.
I finally finished my first Pro Grade model, the 00 Raiser. I'm conflicted with this one. I like the size of it, but overall it feels kind of plain. More decals would help as would some airbrushing. It's too shiny and clean for something that large. The other problem is that it's very loose in the hips and legs. Combine that with the ridiculous size of the back and shoulder accessories and this thing has a very hard time standing on its own. Further frustrating the matter is that there aren't any stands I'm finding for the 1/60 scale.
I did delve into the SD kits. At first, I hated them. The backsides are largely incomplete and the models are clearly designed to be viewed from the front. They only have a few colors for the frames and thusly rely on a LOT of stickers for the details. My lovely wife built the Barbatos and I thought it came out great whereas I was less than pleased with the Wing Zero and Aerial. I did try something different with Deathscythe and did all the detail work with paint markers. It was a lot more work, but I think it was worth the effort.
I was able to track down the golden Unicorn model and the lighter build combined with the stylish chrome-like gold plating was refreshing. It's definitely one of my favorite kits and has me looking forward to the PG Unicorn I picked up.
Finally, I was able to locate a 1/144 Aerial. I love how stylized this suit is. The build was fun and I tried to do the detail work as I built it rather than wait to do everything at the end. I was then able to find the jetpack and a slick stand at HobbyTown. Overall, I'm pleased with how it came out.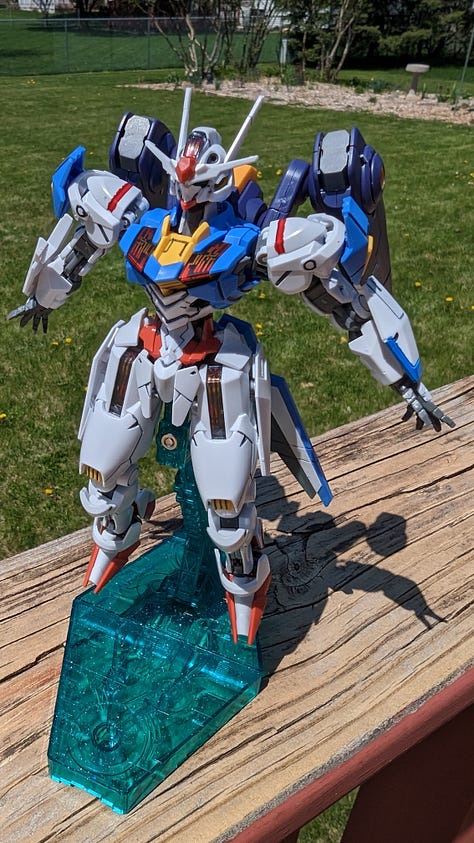 Art
No art this week. I've been slacking when it comes to drawing.